Click Here for your Year of Miracles Free Gift
Listen to Sandra Anne Taylor
LIVE

on her new
Unity Online Radio show:  
ENERGY ACTIVATION
Mondays at 12 pm CT, 1 pm ET 
Access the power within you and around you!  Tune in each week to Energy Activation and explore the holistic and spiritual nature of attraction and manifestation. Discover the science of consciousness creation as Sandra shares techniques and affirmations to shift your energy on a regular basis. Click on the link below for more information.
https://www.unityonlineradio.org/energy-activation-sandra-anne-taylor
You will be able to listen live and join the show at 816-251-3555 or get the podcast later for free!
Click Here to watch Sandra and Colette Baron-Reid discuss Sandra's new Quantum Oracle Deck on Hay House's Oracle Hour!
Learn how to create the dynamic destiny your soul desires by accessing your Akashic Records!
Join Sandra in New York to explore
The Power

of the Akashic Records,

July 17 – 19, 2020. 
Release the Past & Reclaim Your Joy
in Beautiful Tuscany, ITALY 
An Experience of a Lifetime!
May 16-23, 2020
with Sandra Anne Taylor
"You have the power to let go of the past

and
open your life to a brilliant and joyful future!" ~ Sandra
For information about registration, CLICK HERE
Dates: May 16 – 23, 2020
Location: Tuscany, Italy
Special Presenter:SANDRA ANNE TAYLOR
During this life-changing week, you will:
Release unknown blocks to your health & happiness;

Learn powerful exercises to cut the chords of unhealthy relationships;

Activate your authentic power & learn to speak and live in your truth;

Charge your energy with a joy & vitality that becomes a way of life!

Explore the wonders of Tuscany, including Assisi, which Wayne Dyer described as a vortex of miraculous energy!
Join me to discover your deepest joy and open up to the unlimited possibilities that come from leaving the past behind! ~ Sandra 
Accommodations and Cost – The cost for this retreat is $2,895 – $3,295 depending on choice of accommodation.  For more information or to register, CLICK HERE. 
Tap Into the Akashic Records!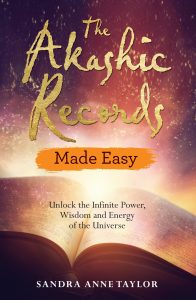 Now available at Barnes & Noble  and starbringerassociates.com
The Akashic Records are a field of information and energy that reaches back to the infinite past and forward to the limitless future. They contain all of the answers we could seek about not only ourselves, but the entirety of all life – including our past lives, all our energies, historical experiences, and personal information. The Akashic Records are able to show us how events from our past, both in this lifetime and in previous ones, influence us today.  By learning how to rewrite your own Akashic Records, you can change difficult circumstances and create the conditions that will lead to a happy future and the igniting of breakthrough forces that attract a spectacular reality.  Imagine the difference in your life when you learn:
The unlimited scope of the Akashic Records;
How and why they are a source of guidance, inspiration and energy;
How to investigate and rewrite past lives to clear obstacles that have re-emerged in this life;
How to program future records to accelerate goals and desires;
How to work on present records to create the life you desire;
How to connect with the spirit world and receive Akashic Record messages from angels, guides and family members.
The opportunities that tapping into this immense body of information will offer you cannot be overstated.
For information about Sandra Taylor's online video course, the Akashic Records Made Easy, click on "Register for Online Course."
~~~~~~~~~~~~~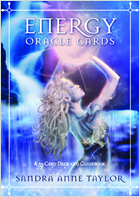 The Energy Oracle Cards are designed to reveal both the present energy you project and the results you are likely to attract. The unlimited power of your own consciousness is a vital force that moves through the Universe and plants the seeds of your destiny far and wide. These easy-to-use cards will help you to understand what your consciousness is creating, as well as reveal any hidden blocks that may be delaying your progress. The information they bring will empower and inspire you, for it comes from heavenly messengers, friends from the spirit realm, and your own higher self. All that you need is available to you, so let your intuition soar. Listen to the messages it brings and take your life to wonderful new heights!
We're excited to tell

you
 that the 
Energy Oracle Cards
 app is available on the app store!
~~~~~~~~~~~~~~~~~~~~~~~~~
by Sharon Anne Klingler & Sandra Anne Taylor
•

Find the answers you seek.
•

Attract your greatest love.
•

Uncover mystical histories and unknown futures.
The Akashic Tarot is an astoundingly accurate tool for predicting the future, unveiling hidden insights, and unleashing new powers. This unique 62-card deck can transport you to the Great Hall of Records to help you discover the unknown. It can also reveal ancient and new talents, unexpected victories, imminent rendezvous, unmet allies, and the steps to untold prosperity.
The Akashic Tarot is designed to access the profound energy and unlimited information that make up the Akashic Records, which are great fields of wisdom and power that transcend time and space and are immediately available to all. With each card, you can connect with a powerful Akashic Force and open to the psychic currents that are always flowing between you and the Akashic Realm. This deck will help you connect with your spirit guides, Ascended Masters, angels, and loved ones in spirit. With the turn of a card, you can enter the Akashic World!
 

We're happy to announce…
The Akashic Tarot mobile app is now live on iTunes!